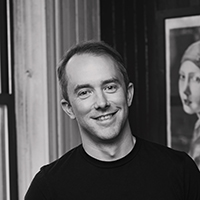 Hi. My name is Zach Ware. If I were a cow you would say I'm Texas stock, North Carolina farm-finished, West Coast-aged and NYC-seasoned.
I live Central Texas and sometimes in Northwest Montana.
You can email me at zw at zgware dot com or DM me on Twitter.
Some things I do:
Outdoorsman, river rat, occasional rock climber, freediver, honorary uncle to seven (!!!) amazing kids.
Acquire and scale small and lower middle market industrial companies and operationally active real estate in the food supply chain, specialized manufacturing and specialized service sectors at Freehouse Capital, a permanent capital firm.
Learn and write about functional health, evolutionary biology and psychology, stemming from a 2015 shift to focusing on my health in a way that would change everything about how I live and think.
Occasionally invest in companies tackling systemic issues in areas I understand, including Stedi, Local Bounti, Levels Health, Flagship RTL and a few more.
Managing Partner of VTF Capital with over 70 investments in companies including Ring, SpaceX, Asana, Mizzen + Main and 50+ more inspiring teams. We are no longer investing in new companies but continue to reinvest in our past investments.
Part-time venture partner at Trust Ventures, focused on startups tackling systemic problems hindered by public policy barriers.
Some things I've done, sort of in reverse order:
CEO of Pilotworks which provided shared commercial kitchens and services to food companies. I joined as CEO in 2018 to lead a turnaround, ultimately shuttering the company.
Co-founder and developer of Downtown Project in Las Vegas, a 41-acre urban redevelopment project including multi-family residential, small business investment and operating hospitality outlets. Co-founded with Zappos.com CEO Tony Hsieh where I focused on real estate development, government partnerships and major projects. (NY Times, Fortune, Wired)
Developed the the 4.5 acre, four building Zappos.com LEED Gold HQ in Downtown Las Vegas. (BI).
Head of Product at Zappos.com overseeing product development, content and business operations of the company's digital and backoffice products (Zappos.com, Couture, 6pm, Mobile).
Founded Shift, a complex transportation operations and technology company that nearly killed me. I shut it down in 2015. (Washington Post)
Co-founded multi-unit coworking company Work In Progress (acquired by Let's Rally).
Managed the retail and ecommerce business at The Republic of Tea from San Francisco after several years managing distribution and production from Chicago.
Managed sales and distribution to restaurants, grocers and food manufacturers in the Southeast US for a DC-based gourmet food importer and distributor.
Studied economics and computer science at Vanderbilt University in Nashville, TN and attended high school at Woodberry Forest School in Virginia.
Held lots of random jobs including working at Starbucks, managing a convenience store, being an electrician's assistant, picking tobacco on my family's farm and working in a Walmart meat department for two days.
My general, non domain-specific, world view is most heavily influenced by a few key works:
Old Media: